Boxes and Packaging - Moving Packs, Packing Materials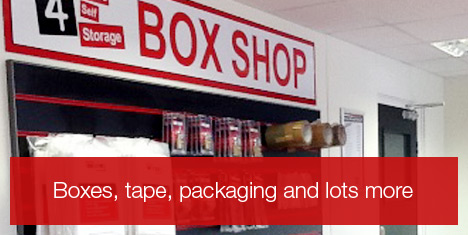 We stock a full range of popular sized boxes, for home or business use, all flat packed ready to fit into your car! Items can be purchased individually or moving packs are available upon request.
For prices and further information please call the office you like to collect from:
King's Lynn - Nicki Goodburn 01553 775794
Norwich - Julie Hardingham 01603 280280
Thetford - Jade Robinson 01842 760090
Useful Tips When Packing Boxes from 4 Secure Self Storage
Listed below are some useful tips you may wish to use,before you start packing your personal items.
Safety First:
Establish a strong work surface at roughly waist height. This will allow you to pack your items in a standing position, this should help to avoid back strain occurring.
Place all hazardous materials such as aerosols, paint, bleach, etc in specially marked boxes and keep them away from the rest of your belongings. This will help reduce the risk of damage to other items from solvent and bleaches etc.
Ensure opened packet tops and bottle lids are taped securely before packing.
Packing Materials:
Ensure you wrap all items sufficiently in bubble wrap / packing paper to avoid damage and breakages to your valued possessions before placing them into your boxes
Boxes:
Use smaller boxes for books and heavy items
Ensure boxes are strong and securely taped at the bottom and taped securely when full.
Fill boxes up to (but not above) their top level
Mark clearly with contents and room destination
Mark fragile on top and side where appropriate
Where possible use the original boxes and packaging for computers, TV''s and other audio/video equipment
Breakables:
Pack plates and saucers on their edges ensuring they are wrapped sufficiently to avoid damage to your possessions
Place all cups and glasses standing up
Place delicate items (e.g. cup handles, tea spouts) away from the box edge
Pictures:
Wrap small pictures and pack in boxes standing up
Put larger pictures into unassembled boxes, and tape either end
Self storage in East Anglia, our facilities are easily accessible from King's Lynn, Downham Market, Wisbech, Heacham, Hunstanton, Swaffham, Thetford, Watton, Brandon, East Harling,Attleborough, Wymondham and Norwich.